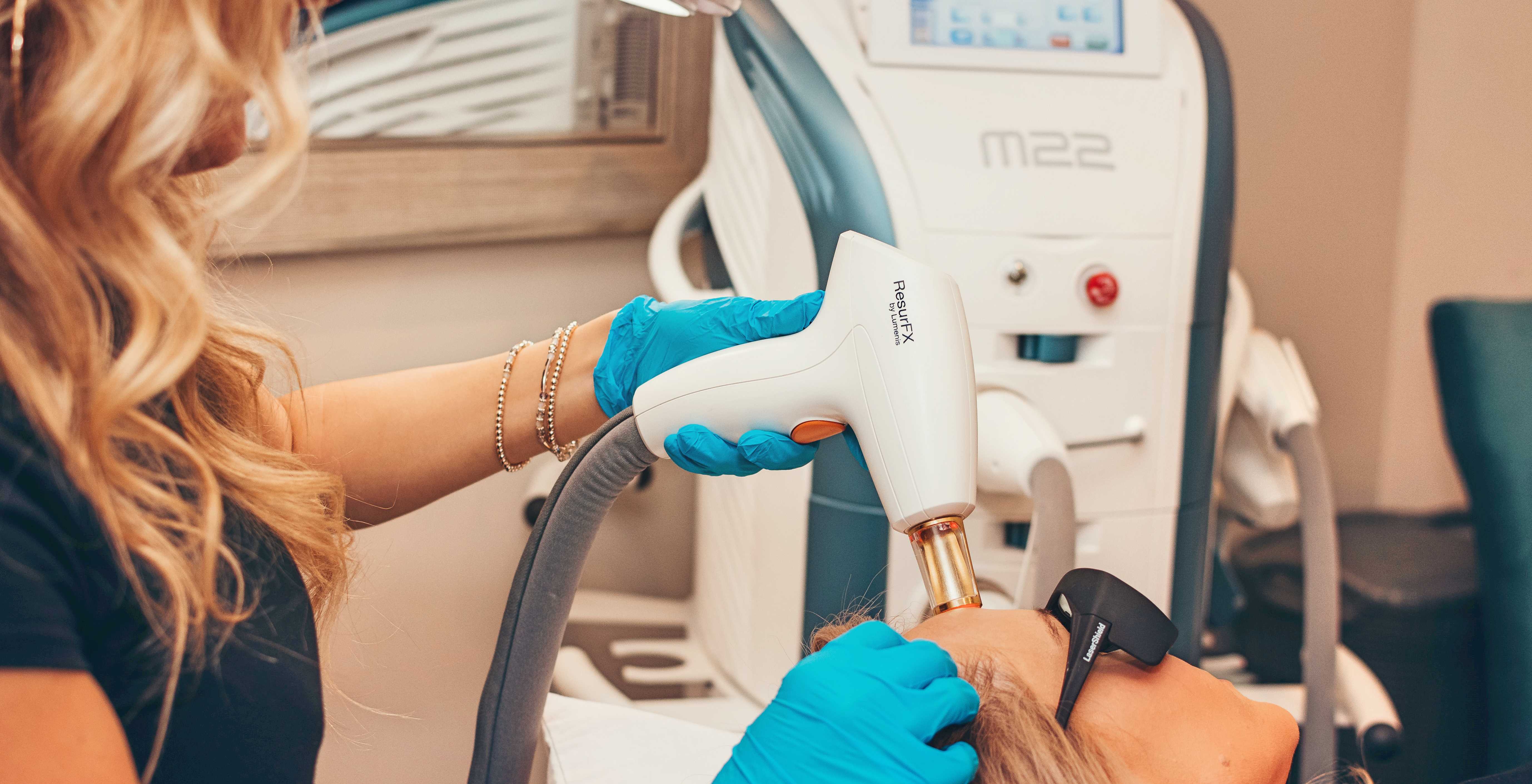 ResurFX
The Lumenis ResurFX treatment is a fractional skin rejuvenation solution, enabling Advanced Laser Clinic to offer remarkable results for younger, healthier looking skin. ResurFX is non-ablative skin resurfacing. This factional laser stimulates the production of new collagen and elastin fibers in the deeper layers of the skin.
It does this by using laser microbeams to heat the deeper layers of the skin. This process is key to radiant, younger looking skin tightening in Springfield Missouri. ResurFX allows excellent clinical results over a sequence of treatments keeping your comfort levels maximal and downtime minimal.
What Conditions Does ResurFX treat?
Fine lines and wrinkles
Acne scarring
Laxity or loose skin
Uneven skin tone
Stretchmarks
How Does ResurFX Work?
ResurFX works by delivering a laser beam that's been divided into thousands of microscopic treatment zones. This allows the laser to target tiny fractions of the skin. ResurFX treats both the epidermal and the dermal layers of the skin. This requires only one pass over the skin to produce effective results, reducing treatment and healing time.
What Happens After a ResurFX Treatment?
Immediately following treatment, you may experience some redness and or swelling. The swelling will usually diminish after two to twenty four hours and the redness as quickly as the next day or over the next few days. Heat and sun are to be avoided after treatment until your skin has finished healing.
When Will I See Results?
ResurFX works to stimulate deep collagen regeneration over a sequence of treatments. Typically about three sessions are needed to have the most visible improvement in skin texture. But as soon as your first treatment you may notice changes in pore size, luminosity, and laxity.
Pre Treatment
Pre treat for herpes simplex (cold sores) if you have a history of breakouts.
Don't expose the skin to UV (sun exposure or tanning beds) or self tanner for at least two weeks.
Don't wax, tweeze, or thread your eyebrows immediately before treatment.
Don't use bleaching creams or perfumed products 24 hours before treatment.
No Microdermabrasion or Chemical Peels for 1 week before treatment.
Keep area hydrated with appropriate products and drink plenty of water.
Post Treatment
Immediately post, effective cooling of the skin can be helpful. Cold compress and Aloe Vera gel can provide comfort and reduce redness.
Do not use the following products 3 days prior and 3-5 days after treatment (or until pinkness and swelling has subsided): Retin-A, Tretinoin, scrubs, acids, or bleaching creams.
Do not expose skin to UV or self tan for 2 weeks. Use a mineral suncreen of SPF 30 daily.
Don't shave for 48-72 hours.
Don't pick or scratch treated area.
Treat skin gently for 3 days post. No electric brushes.
No exfoliation or peels for 1 week post.
Follow Up
Typically at least 3 treatments about 4 weeks apart are necessary to obtain optimum results, although this varies by each individual and their specific skin care goals.