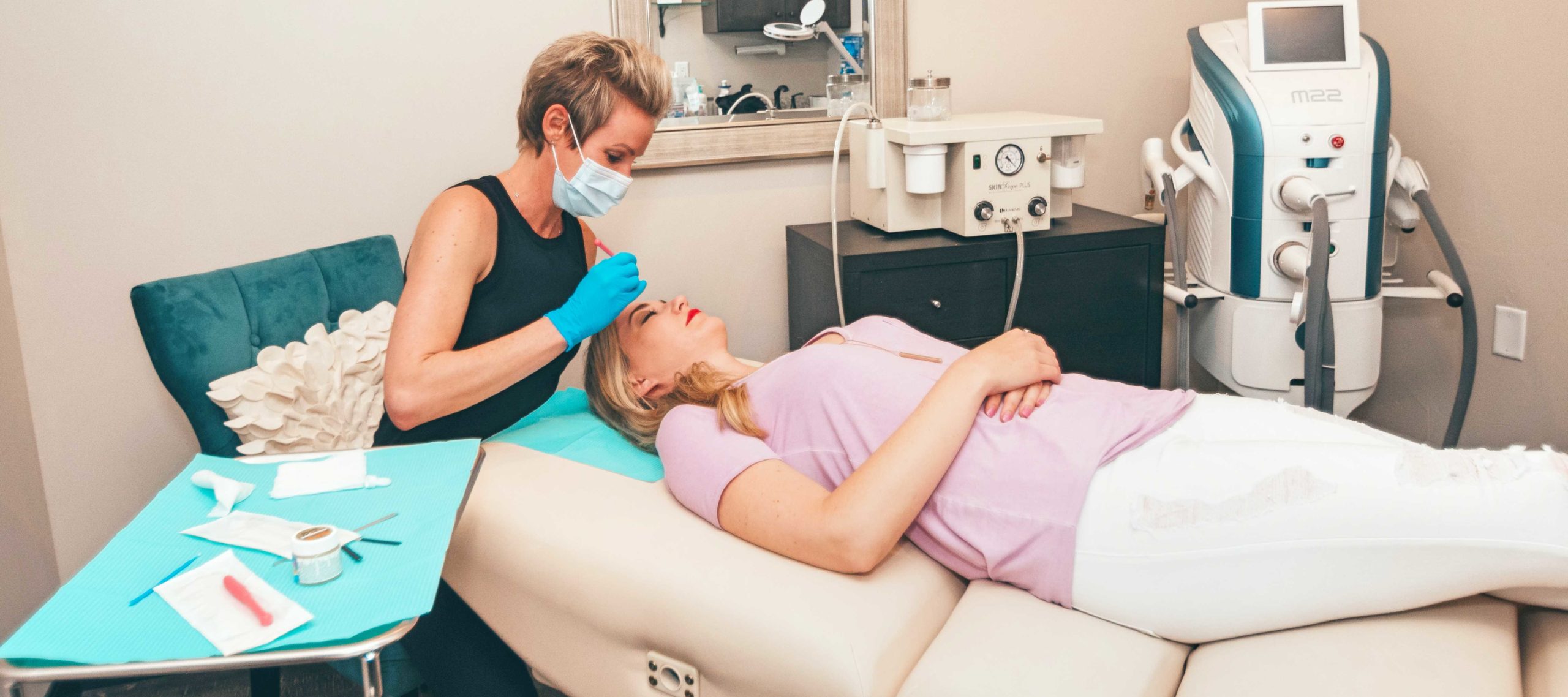 Are you considering the benefits and convenience of permanent makeup? Think of the time you will save each day by no longer having to draw on your eyebrows for the millionth time and trying to get them perfect. Or getting your eyeliner on just the way you like it. Even better is knowing that they will stay looking perfect 24 hours a day. No smudges. No smears. No runs.
There are multiple methods of permanent cosmetics that can deliver natural looking results. During your free consultation, we will discuss the best methods, shapes and colors to achieve your desired results.
Permanent Eyebrow Shaping
Each brow procedure starts with an eyebrow mapping session to find the right fit for your specific facial symmetry and preferences. Shaping the brows properly is the foundation to getting the best eyebrows. Then a brow pigment is chosen to compliment your skin tone, under tones, and the existing brow hair. Then the area is numbed. After numbing the actual micro pigmentation process will begin.
Microblading
Microblading is a technique that utilizes a hand tool and pigment to simulate the look of individual hair strokes. This is a great option to fill in sparse brows or for people wanting a very natural look. Microblading works best for non-oily skin types and only works on specific skin types.
Powder Brows
This method of micro-pigmentation uses the tattoo machine. The powder brow is a great option that gives more of a finished look. If you draw and fill in your brows every day, this is what you will like. This leaves a brow that looks like it was perfectly drawn on with a brow pencil. Using the machine can give a variation of looks from fully saturated to lightly filled in. This technique can be used on all skin types and may be more suitable for oily and older skin types.
Permanent Eyeliner
Permanent eyeliner is a wonderful procedure that will give you the freedom to go without makeup. Adding anything from a lash enhancement to a thicker liner with a wedge or wing will really make your eyes pop.
Free Consultation
With all of our micro pigmentation procedures, there are two sessions that are 6 weeks apart.
Maintenance after your initial two sessions is typically anywhere from a year to three years. By permanent, it is implied that the pigment lasts for a few years and then may need re-touching. But you can't wipe off this makeup.
The skin on our faces replaces itself every 30 days, so over time, the color will naturally fade. This is actually a good thing because as we age, our colors soften and our preferences change. Over time your permanent cosmetics can change with you.
Permanent cosmetics are a wonderful way to save time applying makeup. It stays on all day and night. It does not wipe, sweat, or swim off. If this sounds like the right fit in your life, call today for your free consultation.