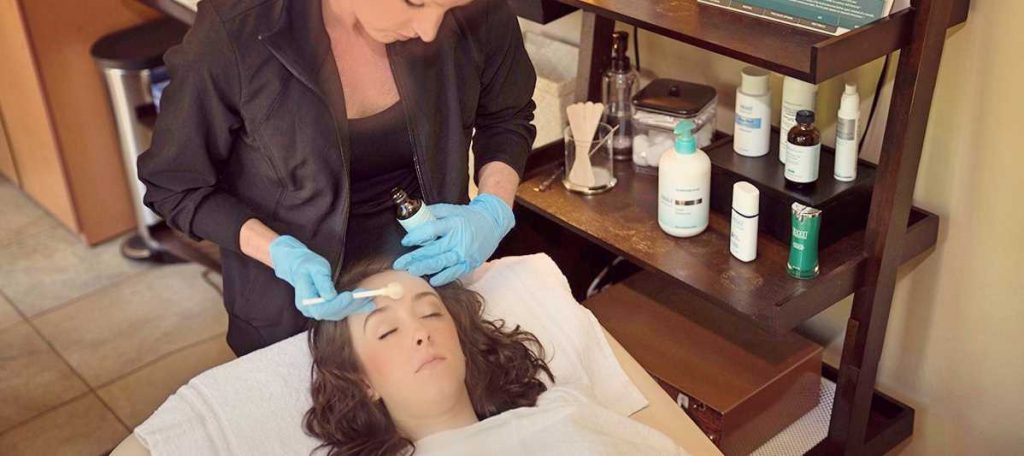 Medium Chemical Peels
Medium peels contain a stronger potency of acids.  Medium peels target the epidermis and upper epidermis ad case the skin to slough within 5 to 7 days.  Within a day the skin turns brown in color, and after 3 to 4 days the skin initiates the peeling process.
What Are The Benefits?
Chemical Peels can enhance your appearance by reducing blotchy and uneven skin pigmentation, fine lines and wrinkles as well as Acne and the problems caused by Acne. Chemical Peel accelerates the production of new cells. You will enjoy fresh smooth skin immediately after your first treatment.
What Are The Side Effects?
Some side effects include uneven pigmentation, redness and very infrequent scarring if the skin is not cared for appropriately. Sun protection is crucial to minimize the risk of side effects. We will develop a treatment program that is individually suited for you as well as products and sun protection that benefit your skin's ability to maintain the results of the peel.
Are There Any Chemical Peel Contradictions?
Pregnant or  Breast Feeding
Accutane (Must be off for 6 months)
Cold sores
Drugs that cause photosensitivity
Open lesions
Sunburn
Perfect Derma Peel
This peel debuts a new unique formula with a key anti-aging ingredient never before used in a peel: Glutathione.  Glutathione is the ultimate antioxidant known to prevent damage to important cellular components caused by free radicals. Glutathione is proven to reverse the melanin's ability to darken. This peel is great for such conditions as Melasma, hormonal acne and hyper-pigmentation. This peel is considered a medium peel therefore you may experience peeling up to 6 days.
Obagi Blue Peel Radiance Medium
This peel is a deeper salicylic acid based peel that can be used for a wide range of skin types. This deeper application is considered a medium peel therefore you may experience peeling up to 6 days.