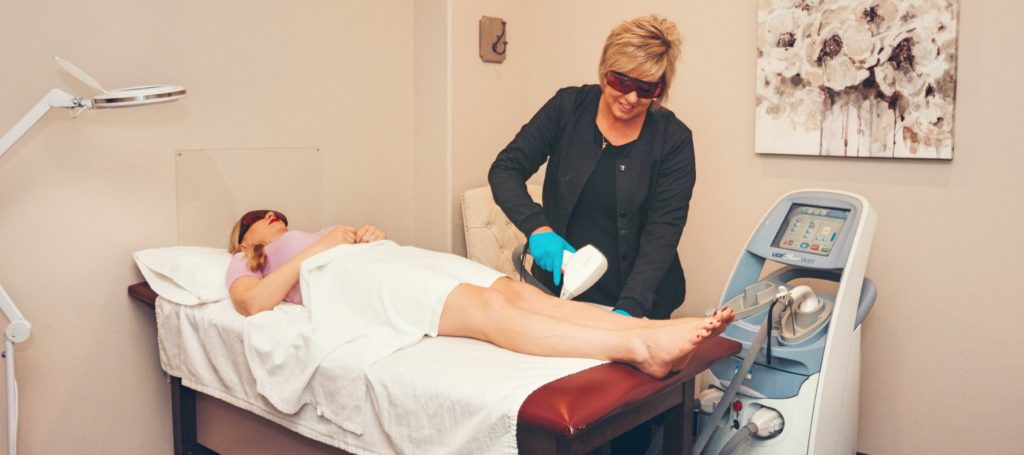 Frequently Asked Questions:
Most people don't want to wade through all the highly technical information that explains how a laser does what it does, nor do they want to read a complete study on the physiology of skin and hair, so let's go straight to the simple answers to the most commonly asked questions we get from new clients.
AM I A GOOD CANDIDATE FOR LASER HAIR REMOVAL?
Certain skin types are more treatable than others. An ideal candidate is a person with a light skin tone and dark hair. We can't treat gray, white or blonde hair and we don't treat people with suntans (in the area to be treated). A Fitzpatrick skin typing is done at the time of your FREE CONSULTATION and will provide us with all the information needed to determine whether you are a good candidate or not.
DOES IT HURT?
How LASER feels is directly related to how much hair there is per square inch. In areas of scant hair growth, it will feel slightly stingy and in areas of heavy growth, it will feel a bit like rubber band snaps. Most people tolerate the treatments very easily while others may choose to prepare the treatment area with a topical anesthetic. After the treatment you look and feel as though you have a slight sunburn for a few minutes – up to a few hours.
HOW MANY TREATMENTS WILL I NEED?
The basic answer is 6. There are many variables that affect this answer such as skin type, area to be treated and underlying causes of abnormal hair growth, therefore we offer a SERVICE GUARANTEE that allows for free treatments for 1 year following the basic 6 treatments.
ARE THE RESULTS PERMANENT?
Yes. This is permanent hair removal, which means that the treated hair is gone for good – but hair follicles that are not currently producing hair can begin to do so at a later date (due to genetics or hormonal disorders). If that should occur, we have specially priced maintenance treatments available to take care of that new growth.
DO ALL LASERS WORK THE SAME?
The short answer is no. There are "processes" out there that make extraordinary claims but simply aren't effective – some aren't even actually lasers. You need to stick with a clinic whose laser and laser technicians have a history of proven results. The more experienced and skilled the technician, the fewer treatments it will take to achieve the desired results. The success rate of any laser is 30% technology and 70% technique.
WHAT AREAS CAN BE TREATED?
We can treat any area of the face or body (male or female) except under the eyebrow. That area is too close to the eye to be safely treated. You will see a list of areas along with the price list on our prices page. However, keep in mind that we can customize both the size and shape of the area to fit your needs.
HOW MUCH WILL IT COST?
We are happy to quote you an exact price upfront to completion on any area of your body from head to toe! That way you know the bottom line. There are no hidden costs. There are no unpleasant surprises. The prices are posted 2 ways: pay as you go per treatment or as a package of 6 treatments that will save you 20%. You choose which works best for you.