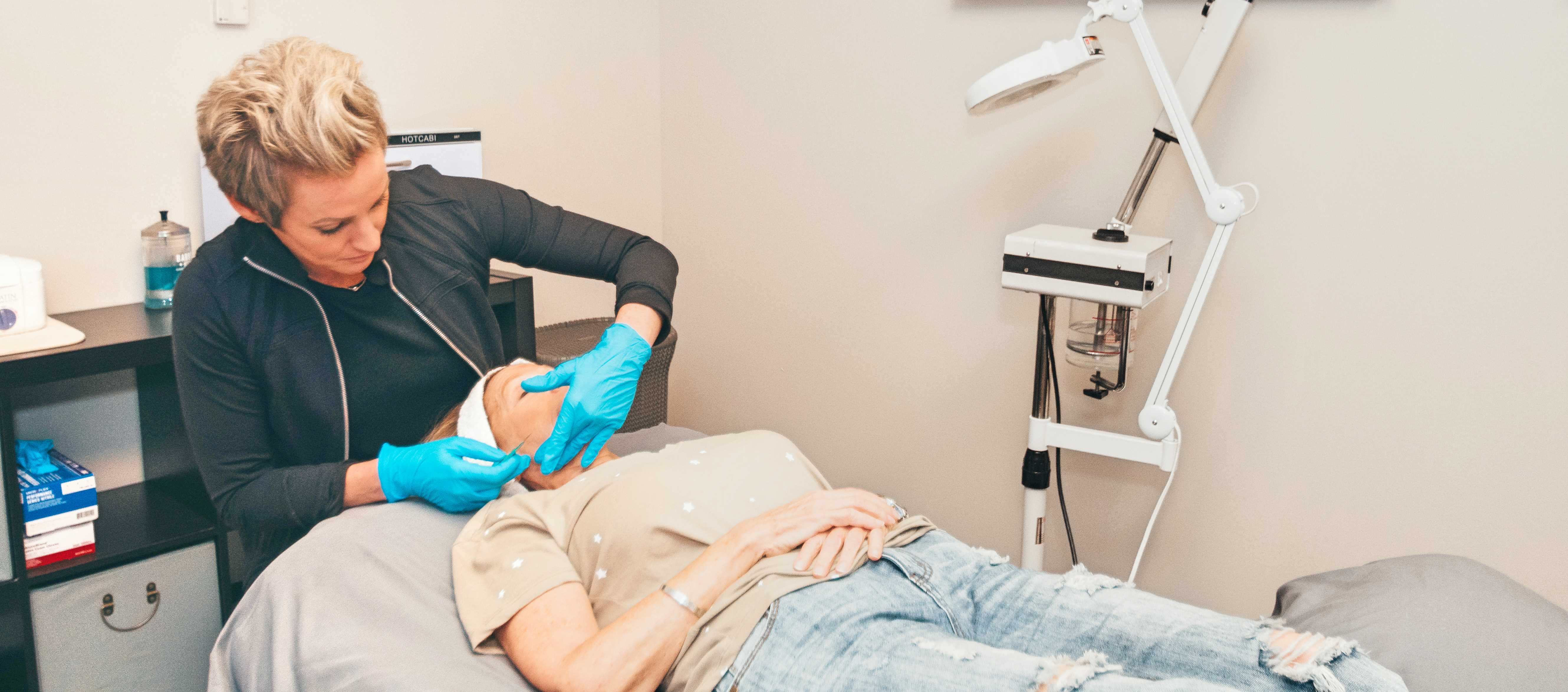 Dermaplaning
Dermaplaning is a skin resurfacing exfoliation procedure used to remove the thin, top, outer layer of skin which are essentially just dead epidermal cells. It is performed using a special surgical blade to gently scrape away that top layer of problem skin. This treatment is wonderful for exfoliating the skin and for those that have peach fuzz on their face. It removes this along with dead skin cells, resulting in healthier looking skin.
Removal of this outer layer of dead skin cells and fine hair enhances the penetration and speed of your personal skin care regimen. It also prepares the skin for other aesthetic procedures such as, chemical peels and IPL- PhotoFacials.
After the treatment, your makeup will go on better and your skin will be very smooth. This treatment is great for someone who has sensitive skin or facial hair that does not respond to laser hair removal.
Dermaplaning can remove up to 2-3-weeks worth of rough, dead skin and build up. It is a highly effective treatment to resurface the skin and leveling out uneven surfaces on the face. Dermaplaning is gentle and does not break the capillaries on the face.
This treatment is also great for people with sensitive skin due to the fact there are no chemicals involved in the treatment.  Dermaplaning is a minimally invasive procedure and requires no recovery time nor does it produce any visible side effects.  This treatment will have your skin looking smoother and fresher.  It will also allow your products to penetrate better and your make up will apply more evenly.
Results and Benefits of Dermaplaning
What can you expect after a dermaplaning session? The results will amaze you:
Immediately diminishes the appearance of dry fine lines that are evident on aging skin
Rids the face of vellous hairs (peach fuzz)
Increases the rate of absorption of pharmaceuticals and skincare products
Provides a healthier and more radiant appearance
Improves the tone and texture of the skin
Who is a Good Candidate?
Dermaplaning is recommended for all skin types except for those with acne skin. If you have deep cystic acne, wait until breakouts are clear before trying this treatment. As always, also discuss any allergies or skin sensitivities before starting a treatment.
This is a great treatment if you are pregnant or nursing and want exfoliation without the risk of harsh chemicals absorbing into the blood stream and potentially harming your baby.
What to Expect During Treatment
Dermaplaning is a painless procedure and can be compared to the sensation of shaving your legs, but in this case, it's on your face.
First, our aesthetician will cleanse and thoroughly dry your skin. Next, she'll pull an area of your skin taut with one hand, and hold a sterile 10 gauge blade at a 45 degree angle in the other hand and use short, swift strokes to scrape off dead skin cells and peach fuzz. The procedure takes about 45 minutes.
Are There Any Side Effects?
There are no side effects and zero downtime. After the treatment, your skin will be highly sensitive to sun exposure and may already look very pink, so be sure to wear a broad-spectrum sunscreen with SPF 30 or higher to reduce the risk of hyperpigmentation.
What are the Anticipated Results?
You'll immediately look more radiant with a more even skin tone and texture. All of your peach fuzz will be gone, which is why first-timers say their skin has never felt so soft before.
Dermaplaning removes 21 days worth of dead skin cells, so it's best to allow the skin to complete its rejuvenation cycle before your next treatment.