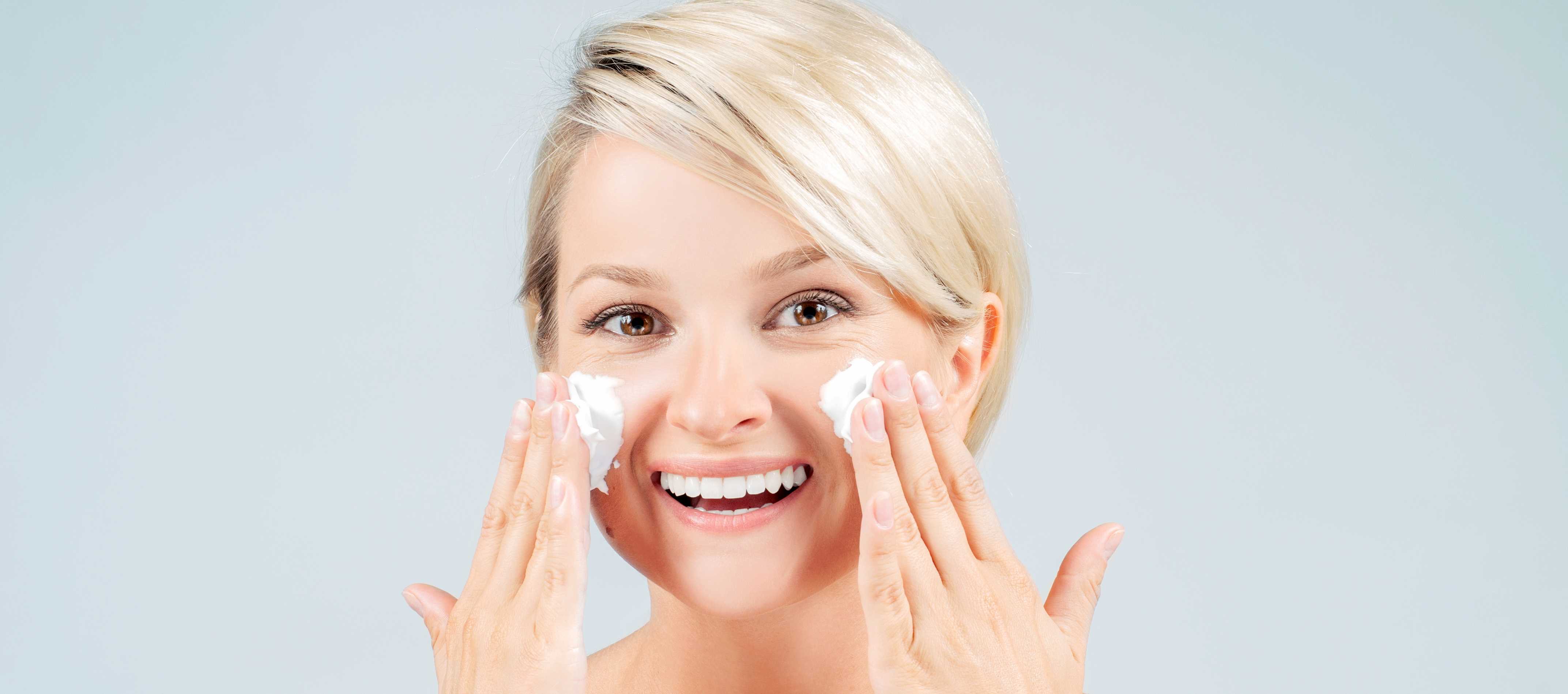 Choosing the Right Cleanser For Your Skin Type
We've discussed how important proper facial cleansing and exfoliation is for ongoing skin health. However, finding the right cleanser for your skin can be a challenge. If you have dry skin, certain cleansers might strip your skin of its natural oils; on the other hand, if you have oily or acne-prone skin, you'll want to stay away from certain oil-based cleansers. Fortunately, choosing the right cleanser doesn't have to mean months of trial and error. Overall, there are several rules of thumb to keep in mind when choosing the right cleanser for your skin type.
Oily or Acne-Prone Skin
You probably already know if your skin is oily or acne-prone. If you have large pores, a shiny t-zone and skin that becomes oily within a few hours of cleansing, you'll want to choose a cleanser designed for oily skin. Additionally, if you experience frequent breakouts alongside clogged pores, whiteheads and blackheads, you'll want to select a cleanser that's formulated for acne-prone skin. We love the Obagi CLENZIderm M.D. Daily Care Foaming Cleanser for both oily and acne-prone skin. If you're dealing with acne, you don't just want a product to treat your current blemishes – you want something that will prevent blemishes from popping up in the future. Obagi CLENZIderm M.D. Daily Care Foaming Cleanser functions on several levels, removing dirt, oil and other toxins from the skin. This unclogs pores and promotes a clearer, more balanced complexion with reduced blemishes and inflammation. The cleanser's fortifying pH levels also balance sebum production, which reduces breakouts and oil moving forward.
Dry or Sensitive Skin
A good way to gauge the dryness of your skin is to observe your t-zone after cleansing. If you don't experience t-zone oil and you begin to feel a tightness soon after cleansing, you likely have dry skin. Along the same lines, you might experience stinging, itching or flushing when using certain products. That's an indicator of sensitive skin. Individuals with dry or sensitive skin need to be careful about which products they use, as some cleansers can worsen irritation and cause flakiness. We recommend Environ's Mild Cleansing Lotion for both dry and sensitive skin types. Cleansing lotions are becoming more and more popular for their luxurious, moisturizing feel, gently lifting dirt and toxins off of the surface of your skin while helping to enhance the skin's natural moisture balance. Plus, Environ's Mild Cleansing Lotion rinses off easily, leaving skin feeling both refreshed and conditioned, never greasy.
Combination Skin
If you have a dry t-zone but oily cheeks, you likely have combination skin, which is extremely common. If your skin is oily in some spots but dry in others, choose a combination skin cleanser like the Simply Clean cleanser from Skinceuticals. This powerful makeup-removing cleanser is formulated with an amino acid surfactant system along with sulfonic acid, glycerin, chamomile and aloe extracts, orange oil and citric acid. That powerful blend allows the cleanser to gently exfoliate uneven or rough skin while efficiently removing waterproof makeup and excess oil. After cleansing, your skin will feel clean and ready to receive skincare products like serums, which can help with that uneven feel.
Choosing the right cleanser for your skin type is an important first step in establishing an effective skincare routine. If you still have questions about which cleanser you should choose, call Advanced Laser Clinic at 417-883-5400 to schedule a consultation. Our skin care experts will help you select products that will keep your skin looking healthy and radiant through cleansing and exfoliation in Springfield Missouri. We look forward to meeting you!