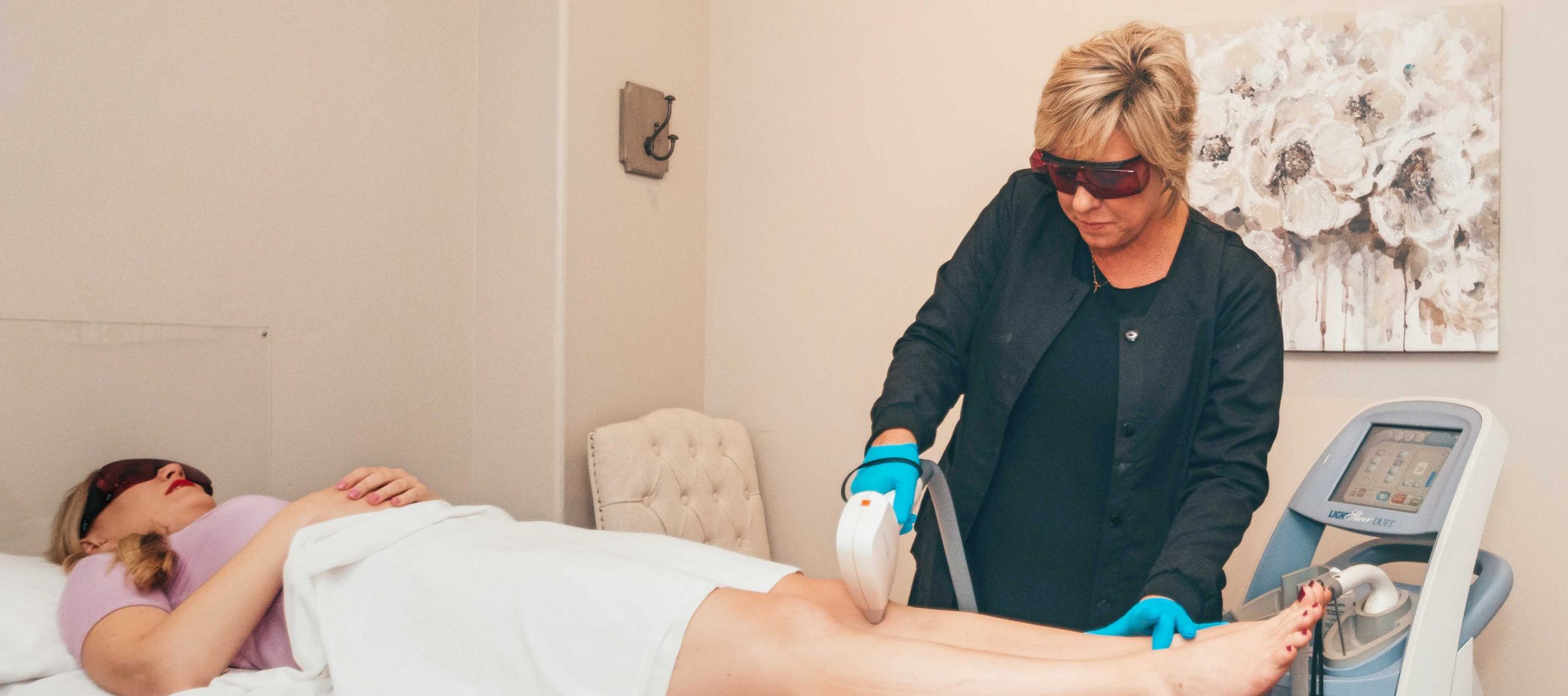 Reflections On 18 Years Of Laser Hair Removal
Advanced Laser Clinic first opened our doors in March of 2003 as the first medical spa that offered laser hair removal in Springfield Missouri. Since then we have expanded our services to offer many new and exciting skin care and cosmetic procedures, but the one constant that Advanced Laser Clinic is known for is being the original experts in laser hair removal.
When she first opened the business in 2003, owner Shelly Baker enlisted Roberta "Bert" Riley to help her introduce a whole new concept in the world of permanent hair removal to Springfield Missouri. Bert had a previous background in electrolysis, so she knew what an upgrade laser technology would be for the process of permanent hair removal.
Bert was excited to be able to share and educate our clients about this procedure and she continues to have a passion for helping our clients look and feel their best. For our 18th anniversary, we sat down with Bert to discuss the changes that she's seen from those early days and why she's still so passionate about providing this service.
How Has Laser Hair Removal Evolved Since 2003?
When we first started in 2003, Shelly and I spent the majority of our time explaining and educating everyone on the concept of how laser hair removal works, because no one had really heard of this procedure before. We originally had to convince people to try it by giving away a few laser hair removal treatments just to show our clients how wonderful it was.
Now in 2021 almost everyone has heard of laser hair removal and are more familiar with its proven results, which makes our job a little easier.
The process of permanent hair removal has not really changed since the beginning, but our lasers have. I am proud to be part of a clinic that wants to have the most up to date and cutting-edge technology when it comes to facial hair removal.
Our FDA approved lasers get the very best results for our clients and we are proud of that.
What Has Stayed The Same Over The Years?
I am proud to say that the one thing that hasn't changed over the years is our pricing. Permanent hair removal is an investment and we do not take that lightly. We want our clients to have the best result from their investment. I have always said "Paying too much for laser hair removal won't leave you with less hair. It will only leave you with less money".
In 2003, we were the only ones in town offering this service. Now there are several of us out there. We still feel we are the best, of course, but with so many options to choose from now, it is up to potential client to do their homework and understand why there is such a price difference.
Another thing that remains the same is that we always give you the exact pricing up front over the phone or in person. We have no hidden costs and encourage everyone to take advantage of our free consultations so they can make the best decision for their investment in permanent hair removal.
What Sets Advanced Laser Clinic Apart In The Laser Hair Removal Field?
Our experience. Shelly and I having been doing this for 18 years. We have excellent laser technicians who are certified and trained by us.
We also have a one-year written guarantee which sets us apart. Our laser hair removal program is a six treatment program, but not all people are done in six treatments.
With our guarantee, we can do free touch up treatments for one year to achieve better results. We also have a maintenance program if you need any further treatment beyond that year at a minimal cost.
Another thing that sets us apart is the way we do business. We strive to be honest and hold ourselves to a high standard of integrity and this makes me proud. We never promise more than we can deliver. If we can't help someone meet their goals, we will refer them to someone who can.
We are so glad that Bert is part of our Advanced Laser Clinic team. If you would like more information about our laser hair removal program, please call us at 417-883-5400. Bert would love to have the opportunity to do a free consultation, so you can decide if permanent hair removal at Advanced Laser Clinic is the right choice for you.