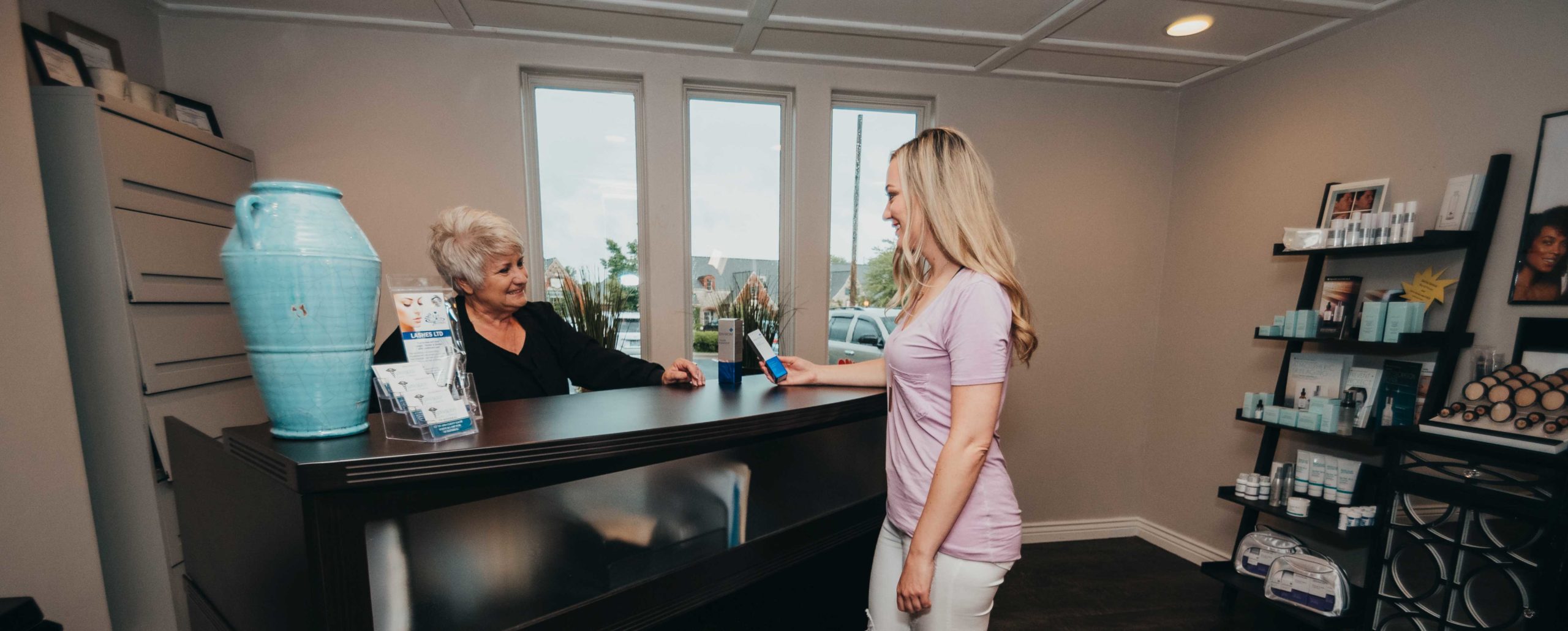 Our Medical Grade Products For Skin Care
Advanced Laser Clinic has an array of great and effective medical grade skin care products for the face and body. It can be hard to navigate through the vast amount of skin care products out there. Even as skincare professionals, there are still skin care products and brands out there that we have never heard of.
There are many claims made by these companies. Do we just believe their marketing? Do we try each and every one to see the results for ourselves? Or do we turn to our trusted skincare gurus to do all that work for us?
All the skincare products that we offer at Advanced Laser, we personally use and love. Our staff has spent years researching and hours of training finding what we think are the best, most effective skin care products out there. A few of the lines we use and carry are SkinCeuticals, Environ, Glo Skin Beauty, and Baby Foot.
SkinCeuticals is a medical skincare line that was founded in 1997 by Sheldon Pinnell, MD, and Russell Moon. These products are based on combinations of topical antioxidants serums.
Their philosophy centers on three main pillars: Prevent, Protect and Correct. These principals work together to provide the healthiest skin possible, and optimal anti-aging results. A few of the most popular are CE Ferulic and Physical Fusion.
Environ is another medical skincare line that was developed in South Africa by Dr. Des Fernandes. After seeing too many skin cancer deaths, Dr. Fernandes was on a quest to make the skin healthier and more UV resistant.
Environ believes that skin has life and Vitamin A is the "oxygen" it needs to look beautiful and healthy for life. Vitamin A is the cornerstone ingredient in the Environ skincare philosophy. Environ introduced the Step-Up System to gradually introduce Vitamin A to the skin and sequentially add more in each level as the skin gets acclimated to using it. This makes it easy and comfortable to get high levels of effective Vitamin A into the skin on a daily basis.
Glo Skin Beauty is a very clean line of mineral makeup. Their formulas use only the best ingredients and ultra-fine minerals in a triple-millled process. This ensures that each application provides even, continuous coverage that lasts. Glo formulations deliver unsurpassed coverage with UV protection. Our favorite Glo product is their tinted primer. With a 30 SPF, it gives great coverage in a silky mattifying preparation.
Baby Foot is a peel specifically designed for the feet. Baby Foot combines 16 natural extracts. Together, these manage to hydrate your skin and exfoliate at the same time. This helps to remove all the extra dead skin and minimize calluses that build up on your feet. Caution: This product really works. Be ready to peel!
As you can see, we have done our research. We offer all of these great skin care products and more. Our staff uses and believes in all the skin care products that we offer to you. If you would like more information, please give us a call at 417-883-5400. Consultations are always free.